Author Nicholas Carr will be speaking as a part of the Foundation's Roll Your Own Lecture (RYOL) Series. Mr. Carr is coming to Albuquerque on Friday, February 17th, 2012, to talk about his book The Shallows—What the Internet Is Doing to Our Brains.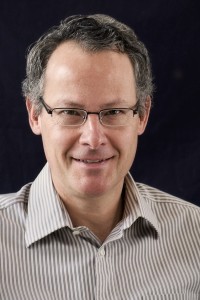 Book Description—The Shallows
Here's a description of The Shallows from the book's publisher:
(W. W. Norton & Company, June 2010)
Finalist for the 2011 Pulitzer Prize in General Nonfiction
In The Shallows, Carr describes how human thought has been shaped through the centuries by "tools of the mind"—from the alphabet to maps, to the printing press, the clock, and the computer.  The book interweaves a fascinating account of recent discoveries in neuroscience that reveal how our brains change in response to our experiences. The technologies we use to find, store, and share information can literally reroute our neural pathways.
Building on the insights of thinkers from Plato to McLuhan, Carr makes a convincing case that every information technology carries an intellectual ethic—a set of assumptions about the nature of knowledge and intelligence. He explains how the printed book served to focus our attention, promoting deep and creative thought.
In stark contrast, the Internet encourages the rapid, distracted sampling of small bits of information from many sources. Its ethic is that of the industrialist, an ethic of speed and efficiency, of optimized production and consumption—and now the Net is remaking us in its own image. We are becoming ever more adept at scanning and skimming, but what we are losing is our capacity for concentration, contemplation, and reflection.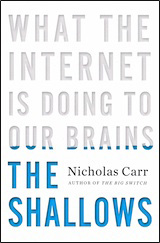 Part intellectual history, part popular science, and part cultural criticism, The Shallows sparkles with memorable vignettes from Friedrich Nietzsche wrestling with a typewriter to Sigmund Freud dissecting the brains of sea creatures to Nathaniel Hawthorne contemplating the thunderous approach of a steam locomotive.
Author Biography—Nicholas Carr
A Pulitzer Prize nominee and former executive editor of the Harvard Business Review, Nicholas Carr writes and speaks on technology, business, culture, and economics. His books have been translated into more than 20 languages. Nick's intriguing 2003 Harvard Business Review article "IT Doesn't Matter," was an instant sensation, setting the stage for the global debate on the strategic value of information technology in business. His 2004 book, Does IT Matter? : Information Technology and the Corrosion of Competitive Advantage, was a bestseller and kept the worldwide business community discussing the role of computers and IT in business. Also a business bestseller, his 2008 book, The Big Switch: Rewiring the World, from Edison to Google, examined the future of computing and its implications for business and society. The Wall Street Journal said The Big Switch was "destined to influence CEOs and the boards and investors that support them as companies grapple with the constant change of the digital age." Nick's latest book, The Shallows: What the Internet is Doing to Our Brains, was selected as a Pulitzer Prize finalist and is a New York Times bestseller. It has received unprecedented international acclaim and has instigated provocative global conversation.
A prolific and nimble thought leader, Carr has written more than a dozen articles and interviews for Harvard Business Review and writes regularly for the Financial Times, Strategy & Business and The Guardian. His articles have also appeared in the New York Times, MIT Sloan Management Review, Wired, Business 2.0, Boston Globe, Industry Standard, The Banker, Director, BusinessWeek Online as well as in his popular blog, Rough Type.
Carr has served as a commentator on CNBC, CNN, and other networks and has been a featured speaker worldwide at industry, educational, and government forums. In Spring 2008 CIO Insight named Carr's Does IT Matter? one of the all-time "Top 15 Most Groundbreaking Management Books" and Ziff Davis included him as one of only a handful of IT management thought leaders on their "100 Most Influential People in IT" list. In 2007 eWeek named him one of the 100 most influential people in IT and in 2005, Optimize magazine named Carr one of the leading thinkers on information technology. Earlier in his career, Carr was a principal at Mercer Management Consulting. He holds a B.A. from Dartmouth College and an M.A., in English literature, from Harvard University.
Lecture Details
WHAT: The Foundation's second lecture in its RYOL Lecture Series WHO: Nicholas Carr, author of the 2010 book The Shallows: What the Internet Is Doing to Our Brains for which Carr was a Pulitzer Prize finalist
WHY: To further investigate what's beneath the surface of such recent headlines as:
• "Is the 'Me Generation' less empathetic?"
• "Study links Facebook to narcissism"
• "Kids who use Facebook do worse in school"
• "Kids increasingly handed iPads, not textbooks"
WHEN: Friday February 17th, 2012
WHERE: Albuquerque downtown Flying Star Restaurant Hospitality Room located at Silver and 8th St.
HOW MANY: Seating limited to approximately 25 attendees
TIMES: Scheduled for 10:30AM – 1:00PM (lunch served from select Flying Star menu items). This will be a "salon event"—an opportunity for a small group to come together to increase knowledge and share ideas concerning a pressing topic. We therefore ask that each group send one representative whose responsibility it will be to report back to the organization. For more information on Nicholas Carr and his work, please visit his web site:
BENEFICIARY GROUP: Tickets are free but participants must register. For each ticket "sold" (up to 25) the FHL Foundation will make a $50.00 grant to St. Martin's Hospitality Center. To learn more about the work taking place at St. Martin's, please visit their web site:
REGISTRATION: Once again, we will be using Eventbrite.com for our registration services, and MGR & Associates for our event planning. Use the Eventbrite widget along the right-hand side of this blog site to register. You can also go to the Eventbrite web site and search for this event.
We look forward to seeing you at this exciting event: an opportunity to meet in a small group setting to hear from one of the leading voices—Nicholas Carr—in the area of society and technology. If you have any questions concerning this event, feel free to contact the FHL Foundation using the Contact Us link above.